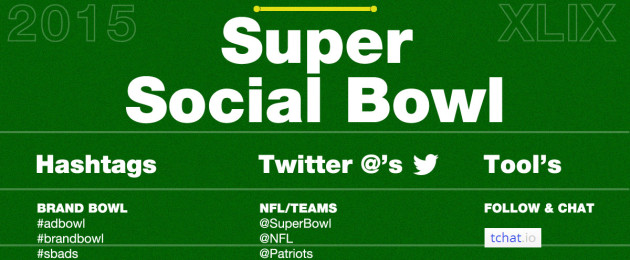 Look, I'll be honest, while I love football, I am really in this for the commercials. And every year I am on the lookout for how brands are using social media during the game, how they are leveraging it in their commercials, and what kind of gaffs they make while doing so. Below is a very quick and rough infographic I put together to help people with some social media tools to follow along with, and some of the hashtags where conversations will be happening. I will come back and pretty this up, but for now, I am going to go watch the game.
Each group is shown by approximate hashtag popularity.
BRAND BOWL #SuperBowlCommercials #SuperBowlAds #adbowl #brandbowl #sbcommercials #commercials #sbads #HashtagBowl
GAME RELATED #sb49 #superbowl #SuperBowlXLIX #Halftime #SuperBowlSunday #SB #superbowlhalftime #SBhalftime #NFLOps #LOB
TEAM RELATED #Seahawks #Patriots #GoHawks #PatriotsNation #Pats #Hawks
MISC. #dtphx
NFL/TEAMS @SuperBowl @NFL @Patriots @Seahawks
PERFORMERS @katyperry @MissyElliott
CITY/STADIUM @UOPXStadium @UOPX @downtownphoenix @phxchamber @Tempegov
MISC. LOCAL @Suns @PhoenixRaceway @FOX10Phoenix @azfamily @PhxNTStreet @NWSPhoenix @phoenixmagazine @Uber_Phx @PHXFire @PhoenixZoo @Phoenix_Tweets
Check out the infographic for all the tools.