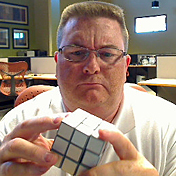 I am forever trying to solve online and offline marketing mysteries for businesses from Fort Wayne and beyond. For me, it's all about the challenge of discovery, discussion, and dissemination of trends and changes in technology, beta services, online tools, and how they may be used in marketing strategies.
I work for Cirrus ABS, a digital agency, in Fort Wayne Indiana. Cirrus ABS is helping businesses leverage online and offline marketing as part of a strategy for winning new business. They specialize in Search Engine Optimization, Social Media Management, and Inbound Marketing for businesses local and abroad.
As a quasi interesting designer/developer, seo/sem, social media/online marketer, ui/ux guy, photographer, and all around character, I seek a platonic relationships with my peers.  Don't let my experience fool you, I love learning about new techniques/technologies, and long click trails through the internet.
In short, I am looking to connect with you in one, or many, of the social networks we probably share an interest in. Do me a favor. Take a second and hook up with me on whichever ones you prefer.