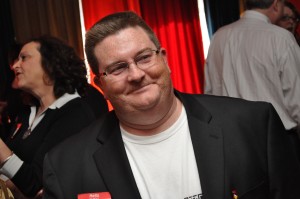 Odds are, if you are on this page, we've met in person and I handed you one of my mini moo cards. It's also likely that you scanned the little QR Code on the card, which has led you here. I hope you will take a moment to look around, but more importantly I want an opportunity to connect with you again.
There's a good chance that I am a part of one or many social networks that you frequent. Do me a favor. Take a second and hook up with me on whichever ones you prefer.
In case you've forgotten, or I didn't have the opportunity to tell you, I work for Cirrus ABS; a digital agency in Fort Wayne Indiana. I discover, test, and disseminate trends in the convergence of technology and marketing for our developers, clients, and audiences at various events. No, it's not a pitch, just what I really do. Nothing pushy, but hey if you or someone you know ever has online marketing needs…we would love to at least have a conversation about what we do.
Great. Now on with the blathering and ramblings of an incoherent geek. » aforementioned ramblings