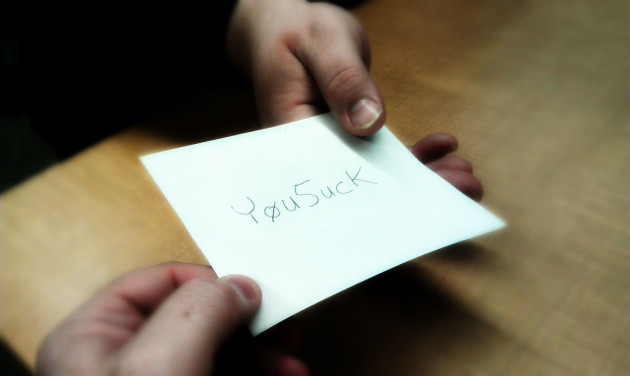 Job seekers getting asked for Facebook passwords… well that certainly caught my attention. Especially since I had just presented to a group of 95 students and faculty at Trine University on   'Using Social Media to Create A Clean Online Presence." In fact, the question was posed by one student about what to do if he were asked for his password. Say "NO" was and is my emphatic answer.

This shocking story about an applicant getting asked for his Facebook password by Manuel Valdes and Shannon McFarland for Associated Press caught my eye via a tweet by our local Journal Gazette. Maybe shocking isn't the right word, as we already know that applicants are being screened to various degrees of rigor based on the type of position sought and the size of the organization. And as I mentioned during the question and answer session at the Trine Social Media Summit, applying for positions in the PR, Advertising, Marketing, Media field, et al, or running/working with any kind of candidate for office will ratchet up the thoroughness of the investigation of your social activities. However, asking for a password crosses a very clear line, in my opinion.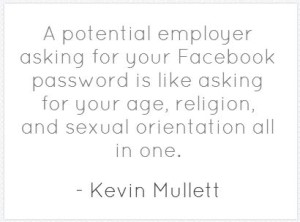 You see, a potential employer asking for your Facebook password is like asking for your age, religion, and sexual orientation all in one. Which, last time I checked, were considered discriminatory questions. And I don't know about you, but not all of my passwords over the years have been something I would want to share with others due to what they stand for. I guess that breaks my number one rule of never posting anything you wouldn't want to see on a billboard, that your Mom drives past but…yeah.
Not only is it a huge potential for discrimination, past the obvious of disqualification for badmouthing, it presumes the company has a right to squelch your free speech. Laws already exist to protect against public defamation, which is different from opinion, of course. I am not a lawyer and I didn't stay at a Holiday Inn last night, so I am going to stop there. Hope that reference isn't in vain.
A few potential responses to work with, but by no means an exhaustive list:
No.
As my password is the same for multiple personal and financial accounts, I am not willing to disclose that information.
Heck, no. (Derivatives may be acceptable in certain situations…ok, don't do that.)
I would be willing to show you a printout of my last 50 status updates; if this will not suffice, I will have to withdrawn my application. (Unless you REALLY, really need the job.)
I'll show you mine if you show me yours.
Oh, don't worry, you can subscribe to my public Facebook feed, which will give you access to all conversations I mean to make public. Obviously, conversations like those occurring in my own home, in a privately addressed letter, or via my own personal phone are off limits.
Are you concerned about what I might say because cause has been given to employees to speak out in the past?
It is against Facebook's terms of service, section 3.5 and 4.8, for me to share this information with you. (Are you asking me to break rules?)
"You will not solicit login information or access an account belonging to someone else." AND "You will not share your password, (or in the case of developers, your secret key), let anyone else access your account, or do anything else that might jeopardize the security of your account."See also section 3.12, 5.7 and 5.8 if they want you to friend someone who will "review" your account. See section 3.2 if they mention using "tools" to search for your information.
As this information may be used to discriminate against me based on my age, race, religion, or sexual orientation and breaks Facebook's terms of service section 3.10, I must decline.
"You will not use Facebook to do anything unlawful, misleading, malicious, or discriminatory."
*Updated* I have found many talking about it being a Federal crime to enter a networking site in violation of its TOS, but can only find this article on the DOJ website which touches on it. It was also recently released that Senator Richard Blumenthal is working on a new bill that would put a stop to the practice of employers asking for Facebook passwords. He is citing the ban on the use of polygraphs in the workplace as a justification. Senator Chuck Shumer has joined Blumenthal in asking the Attorney General Erick Holder to investigate if this breaks federal law. Facebook has also recently spoken out on the subject.
In case you haven't heard, there are many examples of lawsuits and firings of employees for things they have said both publicly and privately to friends that were discovered one way or another – often due to someone else in the company being friended, then reporting to the higher-ups. These cases run the gamut of circumstances and results. Most are not making it all the way to rulings by the courts, which leaves us in the lurch about any type of precedence.
One final thought for employers. If you have to ask employees to sign non-disparagement agreements, the issue may not be with employees.
What do you think? Should you be compelled to give up your Facebook password? What then of your email password? What about the keys to your house? How far is too far? Chime in below. (ED NOTE: Comments are broke. Currently researching who unplugged them from the wall.)
Tagged with:
applicants
•
employment
•
facebook
•
jobs
•
js260
•
passwords
•
privacy
•
social
•
social media