When a Twitter follower asks if your account has been hacked it tends to grab your attention. This is what happened early this morning after The Fancy, an application for discovering fancy products, broke one of the cardinal social connection rules, which also happens to break Twitter's TOS (Section 1B), by auto-posting my activity to my twitter stream.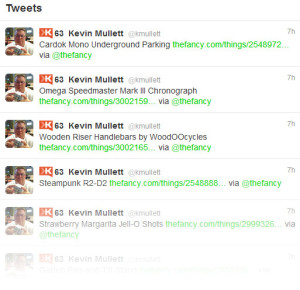 A few days ago I had discovered The Fancy Android app while browsing the Google Play Android app market. I delayed the creation of my Fancy account due to other priorities, so last night I finally took a few moments to set it up. As I most often do, I opted to use an email account setup rather than to have the account created via Twitter or Facebook. What I found was a beautiful application that was reasonably well thought out, or so I thought.
As is common with such set ups, the app prompted me early on to connect via my social channels to discover friends who may already be using the app. That's a big part of what makes it social after all. This is where the trouble started. You see, connecting my Twitter account to find friends IS NOT an invitation to auto post to my feed. Sadly, I later found out that this is exactly what Fancy was doing.
Every press of the "Fancy" button in the app was sending a tweet to my feed, which gave the appearance of a hacked account or at least a spammy one. After being notified by a Twitter follower, I went to the app settings and sure enough the box to auto post to my account was checked even though I was not asked if I wanted that, nor was a confirmation presented to me after connecting my account to find friends. Needless to say this breaks my trust with the app, the developer, and has resulted in this poor review. Here and on the app download page.
Simple mistake? Sorry, that simply won't cut it.
Tagged with:
apps
•
fail
•
fancy
•
social
•
spam
•
terms of service
•
twitter