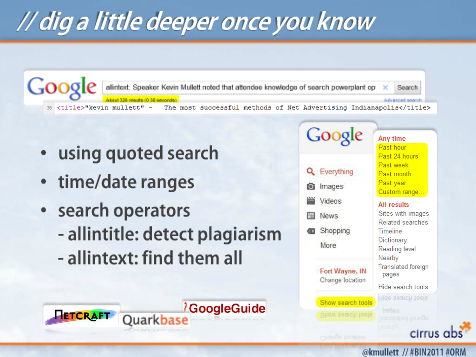 Let's face it, there are people out there on the interwebz plagiarizing content, and unfortunately, finding out when it is your content can be difficult. A friend of mine, Erik Deckers of problogservice.com, posted "How to Find If You've Been Plagiarized" the other day. I encourage you to go check it out. I mentioned on Facebook that he had missed one of my favorite methods for uncovering duplicate or plagiarized content; using Google's operators.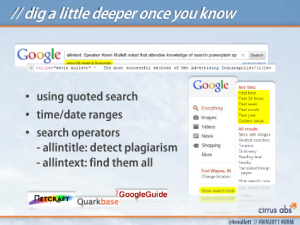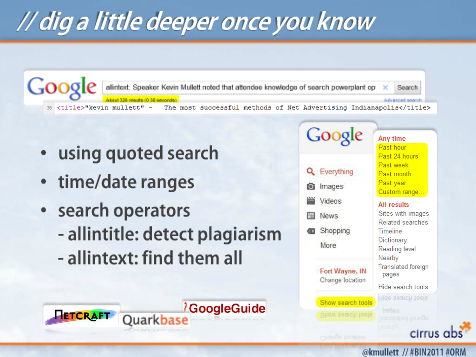 Google operators are these magical little short snippets of text you put before or after a string/search query to help Google return more specific results. Using the method I describe in the video helped me discover thousands of instances of my content being used, without my permission, after an initial Google alert tipped me off to it's usage. In fact this is the same technique I showed in my online reputation management presentation at Blog Indiana 2011. We will save Google alerts for another day. In the short video below I only discuss two Google operators, allintext: and allintitle:, but they are two very powerful tools for hunting down that duplicated or plagiarized copy.
By the way, I've started a new Youtube channel and would appreciate any likes, connections, subscriptions, et al to help get this one rolling. My old one dates back to forever but didn't use my name. Thanks.

Tagged with:
content
•
copyright
•
operators
•
plagiarized
•
search