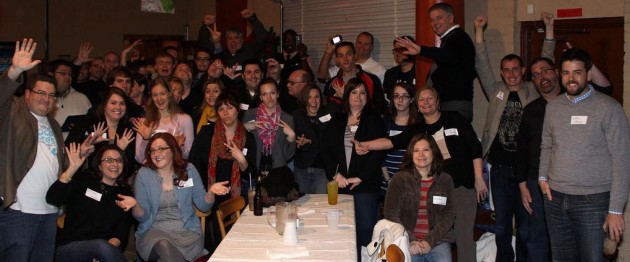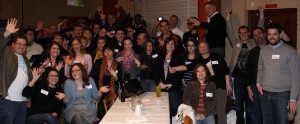 It's not easy selecting a few people to highlight when your life is filled with many, but that is the task I finally could avoid no longer today. Nominations are due tonight, at midnight, for the 5th Annual #Indiana's Social Media Summit and SMackdown Awards. What is that? It is tongue-in-cheek event held each year to laugh at our social media and marketing industry. And to add to the flavor we also to crown, with paper tiaras, and bestow trophies, used as they may be, on a select few of exceptional social people and accounts.
While it is mostly about the fun, I will admit to feeling warm and fuzzy after being voted Most Influential Dude in 2011. Since I've felt the joy of being recognized it is only fitting that I seek to recognize others.
Below, and without further ado, are my nominations for this year, along with the required justification. (In order of nomination form)
@amrecker: Amber Recker
When I think of Indiana's social media influencers, I think of Amber. She is out there doing the work, making social happen, and kissing babies. Ok, well I've never actually seen her kiss a baby, but…look she has people skills alright. Go vote for her.
@douglaskarr: Douglas Karr
Doug is tirelessly providing quality content via his Marketing Tech Blog site, day in and day out. Few others, anywhere begin to touch the volume of quality content he is putting out. And he does so with humility and generosity to others.
@ajmotia: Ashley Motia
To say that Ashley is an up and comer is to force myself to only look at how far she has come in the past year. She isn't new to the scene but she sure has upped her speaking game. She is highly engaging, personable, fun, snarky, geeky, and full of marketing know how. If you just started watching her, you're too late.
@ScLoHo: Scott Howard
If you live in Fort Wayne, and are remotely social, you've likely run into or been helped by Scott. He has been helping others, for all the right reasons, for years. It is high time he got more than just a pat on the back for it.
@BionicSocialite: Sheryl Brown
Sheryl is a veritable stick of social media dynamite. She is super engaging, an avid connector of people, and fun to hang with online or off. If you are looking for an authentic groovy person to socialize with, she is on the top of my recommendation list.
@JoeNoorth: Joseph Noorthoek
Joe is a transplant from another state and we ARE NOT giving him back. They just don't come any more real than Joe. Seriously. Forget about my wallet, I'd let Joe watch my plate of bacon.
You don't like my nominations? Tough. Well, actually you can still make your own as long as you get them in before midnight tonight. Go here to make nominations. And don't forget to sign-up to join us on December 27th for the event.
Tagged with:
awards
•
Indiana
•
nominees