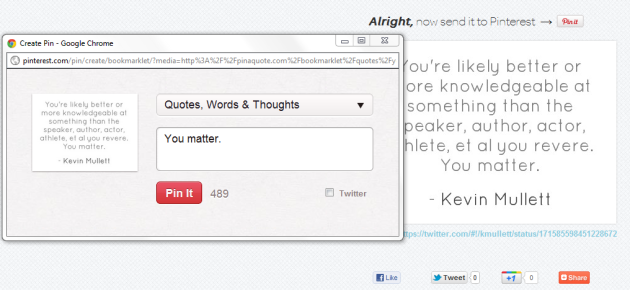 I know, you can't read through social media channels without hearing Pinterest this and Pinterest that these days. I'm sorry, but this fine is too cool not to share. The folks over at Pin A Quote have made it easy to share the written word, and more specifically quotes. My friend Erik Deckers, co-author of No Bullshit Social Media, mentioned it in a tweet the other day.  Here are three quick reasons I love this solution.
You do not need to attempt or pretend to be a designer, nor do you need to have an app to create a simple quote graphic. See the popular alternative someecards.com.
When you pin the quotes using the Pin A Quote bookmarklet it automatically adds the URL from the status, post, or page.
It allows you to give attribution to the author, which is far too often omitted.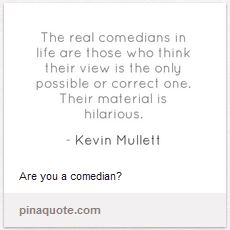 I will admit this requires a cautionary message. I almost used Pin A Quote on a friends blog post the other day, but didn't. My concern was that even though it would have linked back to his original post, I was about to quote what was essentially the full meaning of the post. After reading the quote on a Pinterest there really wouldn't be any reason to click through to the full post. This brings to mind the sometimes awkward question of what constitutes fair use. With all the conversation and confusion over Pinterest's TOS (terms of service) I can only suggest you use good judgement and care when quoting other peoples work. Here is a pretty good post on Avoiding Copyright Pitfalls on Pinterest.
I've always enjoyed wordification and quotes. Now there is an easy way to share them to Pinterest. What do you think? Will you share other peoples quotes or your own? Join me over on Pinterest.
Tagged with:
js260
•
pinterest
•
quotes
•
social