Let's say you want to sell an image, document, music, video, or some other kind of file on the web…right now, would you know how to do it? Could you have it set up in under 5 minutes, well if we assume that you already have a PayPal and Dropbox account? Now you can with Sellbox (CLOSED). Sellbox is a new online service that allows you to sell any file in your Dropbox account and accept payment via PayPal, and it is EASY!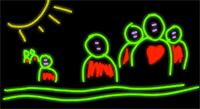 I tested Sellbox with my masterpiece drawing (pictured right) and you can own it today for the meager price of $1. As I walked through the very easy process of selecting that drawing from my Dropbox account, Sellbox even calculated that I would make $0.67 for each one you suckers art appreciating individuals buy. This potential earnings factors in the 9% fee Sellbox will normally charge (currently waived) plus the $0.30 and 2.9% that PayPal takes. The Sellbox waived fee promotion is good till August 1st.
While I really love how simple and efficient they make it for anyone to sell a file, I would be remiss if I didn't remind folks that you MUST OWN THE COPYRIGHT of any file you sell. There are also a few small quirks that I have pointed out to the developer, but keep in mind this was just released days ago.
Some may be confused that it immediately wants you to select something to sell, before configuring the account. This is likely an attempt to get people past the account sign up phase and immediately into using the product. Many start-ups fail because people don't ever use accounts they setup.
An alert popped up to tell me I needed to connect my PayPal account, but that alert disappeared and there was not button. Some users won't automatically know to head to settings button to finish making the connection.
I would like to see stats on how many people clicked and viewed the item against how many actually purchased. To be fair, maybe those stats exist but no one has click, viewed, or purchased my masterpiece yet.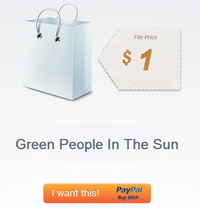 The biggest issue for me was that it doesn't pull an image of the item being sold, or a representation, when sharing to Facebook, Google+, etc, or when they click the link and arrive at the landing page. This could drastically reduce conversion and drive up sale abandonment. I have suggested that the developer give an option to upload a thumbnail of the product, document, slides, whatever, or an option to select an Icon that represents the type of file like doc, slide, audio, video, etc. This would also make it easier to find files to manage in the my listings area. This certainly wouldn't stop me from using the service, especially if I am just trying to sell a file that two parties have already discussed, but I do think it should and likely will be addressed.
Overall, I am very pleased with the service and the simplicity of it. I would absolutely recommend it to anyone who wants to sell one or several files. Don't have a Dropbox account? Get with the program! It is an cloud service I recommend to everyone and if you use this Dropbox affiliate link to signup we both get more free space.
Do you have files to sell? How will you use this service and what types of files will you sell? Is there another service like this? Drop your comments below.
Tagged with:
cloud
•
Dropbox
•
ecommerce
•
file
•
paypal
•
sellbox
•
services
•
social
•
tools