I am what you call a wreckless beta tester. I often put myself into harms way so that friends, clients, and seminar attendees don't have to. I do have limits though. One of those limits is when a new service, from an unknown company, asks for a password instead of using some manor of authentication.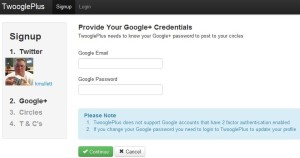 Enter in TwooglePlus. At first glance I almost passed on even trying this tool because I am not keen on the idea of pure automation for cross posting to different services. After reciting eeny meeny miny mo, I decided to at least give it a try based on the believe there may be settings to allow review of some sort. I mean they appeared to have a way to select which circles to post into so maybe they had thought of keywords, hashtags, or the like to trigger it as well.
I started stepping through the process only to land on a page that stopped me cold. They wanted my password to Google Plus. Hmmm. Now I am not sure if you realize this or not, but that would also be the password to, well, everything on Google. In short. It's not happening.
Normally this is the point in which I use a test, read false identity, account, but I do not have one for Google Plus. So alias, this ends my evaluation of TwooglePlus. For now. I realize that the developer may have had to do it this way due to the limitations of Google Plus at this time and I certainly have no reason to believe anything malicious would result. Still, giving away a password is a security risk and one that I am not willing to take. By all means, let me know if you are foolish brave enough to give it a shot.
Tagged with:
beta
•
google+
•
privacy
•
testing
•
twitter